Status update on Interhash 2024 by Interhash Council: coming in MArch/April 2023 …
IH22-24-Explanation <- letter from Interhash Council April 3 2022
Explaining why Goa hosts IH2022 and NZ hosts IH2024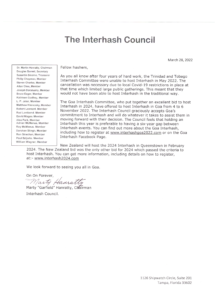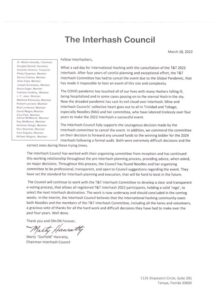 (above) Official Announcement of final cancelation of Interhash Trinidad & Tobago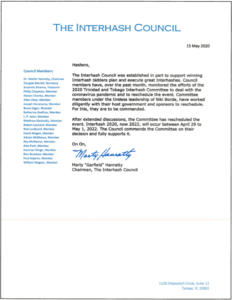 What Is the Interhash Council?
The Interhash Council (IC) is group of dedicated international hashers who have each attended numerous Interhashes and have directly participated in the organization and management of at least one of them. In total, members of the Council have over 580 years of Hashing experience and have lead or worked on over 35 different Interhashes, many on multiple Interhashes.
…
The IC is not a closed shop of self-elected individuals.  Anyone with the IH experience and commitment can apply to join.  The Council is very international in its membership and made up of about 10 different nationalities. It meets online regularly and in-person at the InterHash venue. In-person meetings are usually open to any Hasher to observe and contribute as appropriate.
…
Members of the IC do not receive payments for their services, nor do they have their expenses reimbursed.
Draft and final documents and expertise/knowledge documents

Interhash Logos
Event History: Where Has Interhash been held?
1978 Hong Kong
1980 Kuala Lumpur, Malaysia
1982 Jakarta, Indonesia
1984 Sydney, Australia
1986 Pattaya, Thailand
1988 Bali, Indonesia
1990 Manila, Philippines
1992 Phuket, Thailand
1994 Rotorua, New Zealand
1996 Limassol, Cyprus
1998 Kuala Lumpur, Malaysia
2000 Tasmania, Australia
2002 Goa, India
2004 Cardiff, Wales
2006 Chiang Mai, Thailand
2008 Perth, Australia
2010 Kuching, Malaysia
2012 Jogjakarta, Indonesia
2014 Hainan, China
2016 Bali, Indonesia
2018 Nadi, Fiji
2020 Trinidad and Tobago – CANCELED
2022 Goa, India
2024 Queenstown, New Zealand